The Emilia Romagna Region organised a public meeting entitled "Ti Porto nel Cuore" ("I hold you close to my heart") in the frame of CO-EVOLVE at the Palazzo del Turismo in Cattolica. This meeting aimed to present the results of the participatory process conducted for about a year as part of CO-EVOLVE.
In Cattolica, over the past twelve months, four laboratories have been set up, involving different stakeholders: public bodies, universities, associations and companies. The "Ti Porto nel Cuore" initiative was the occasion to present the ideas and proposals that emerged during the meetings.
In particular, Marco Pellegrini (UniBo-DIN) and Giovanni Preda (Trevi SpA) illustrated the feasibility project for the construction of an overall system for remodelling and managing the seabed with the use of ejectors. Carlo Albertazzi (Emilia-Romagna Region SDSCB) and Alessandro Costa (Municipality of Cattolica) presented the information gathered on a possible agreement protocol aimed at regulating a "special consultation" for the needs of the port complex. Maria Vittoria Prioli (Municipality of Cattolica) reported on the indications for a separate waste collection in the port area. Finally, Leonardo Marotta and Cesarino Romani (Cetacea Foundation) focused on possible actions to reduce the contribution of fine sediments from the basins upstream of the port area.
The first part of the morning, which ended with workshops open to participants for the collection of ideas on the next steps of the project, was introduced by Nicoletta Olivieri, Councilor for tourism, economic activities, decoration and furniture of the Municipality of Cattolica, and Paola Gazzolo, Councilor for the defense of the soil and the coast of the Emilia-Romagna Region.
Olivieri said "Working together in a participatory manner leads to better results especially in actions such as the Co-Evolve project which focus on the heart of our city, the port, aiming at environmental sustainability but also towards economic and tourist development by doing network with all those who work every day in this very strategic area for the whole community."
Gazzolo added "The Participation is a cornerstone of this European project with a very broad partnership of regions and scientific communities, which builds the conditions for new policies and more integrated choices capable of combining sustainability and blue development of our coast. Moving also from coastal tourism, which has a constantly growing trend, and sees our region among the top places in Europe."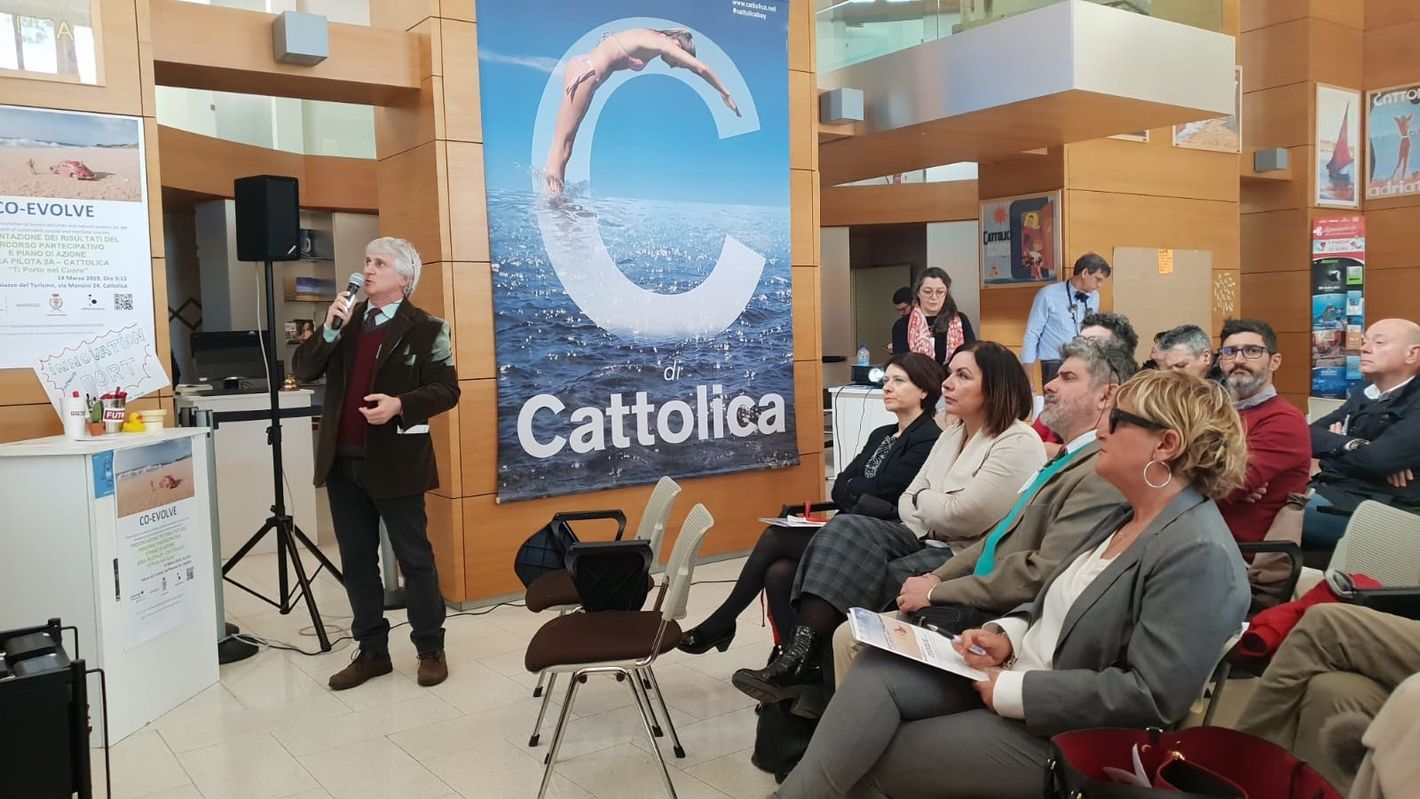 Roberto Montanari, CO-EVOLVE's coordinator for the Emilia-Romagna Region (Service for the Defense, Soil, and Land Reclamation) specified "The Co-Evolve Project is inserted within a Mediterranean and European participation that involves regions ranging from Spain to Greece. These are territories that believe in blue growth and sustainable development. In Cattolica, we focused on several points: a densely urbanized area with a port, which is the heart of the city, with criticalities due to the interruption from upstream and the silting up from the sea. A plan of actions was then made related to tourism and economic activities - to improve water consumption, pollution and waste production - and to evaluate sustainable solutions for managing the seabed, in order to reduce the need for dredging, by starting a path of collaboration between the various public and private entities operating in the port area. These are the tracks on which the participatory process was co-designed with local stakeholders."
Sabrina Franceschini, Head of the Participation Area of ​​the Emilia-Romagna Region, finally made a presentation focused precisely on the law for Participation (l.r. 15/2018). "This standard, among other indications, provides a framework with respect to the use of participatory methods and the involvement of stakeholders and local communities. The Region - underlined Franceschini - supports participation through calls for applications with which it provides funding to local authorities; but also working on the development of skills within administrations, for example with the creation of a community of participatory practices, to put the knowledge of public officials online in order to create common projects."